Chesil Beach is located in the western English Channel and faces the prevailing south-westerly winds. It is often subjected to severe south-westerly gales and large waves. It can also be affected by large swell waves. Hamm Beach and the Fleet shoreline of Chesil Beach can be affected by south-easterly gales.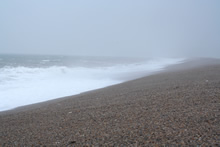 South-westerly gales are the most frequent storm events on Chesil Beach. These gales can generate waves in excess of 8 metres high. They are usually associated with deep depressions moving in from the Atlantic Ocean and the low atmospheric pressure can also generate a storm surge in the Channel in which the mean sea level is raised by up to 1 metre. The combined effect of big waves, a storm surge and a high tide can drive waves over the top of Chesil Beach. Depending on the wave height and direction and the tidal cycle, large quantities of pebbles can be moved causing a re-structuring of the beach. See the Impact page for more information on re-structuring
In the past such events have resulted in major flooding of Chiswell and the only road in and out of Portland.
In 1984 a flood defence scheme for the area was completed with gabion mattresses raising the beach crest height and an interceptor drain installed which catches the over-topping waves and allows the water to quickly drain into Portland Harbour. Since then there has been no serious flooding of the area. This flood defence scheme is described in a booklet prepared by the Dorset Coast Forum and Weymouth & Portland Council and is available to download from the DCFwebsite.
Swell events can occur under any local weather conditions. They are much less frequent than gales. Swell events are caused by major storms far out in the Atlantic. These generate large swell waves which are driven towards the western Channel by a particular pattern of winds. These events are characterised by very long period waves. In a typical gale the wave period will be in the region of 8-12 seconds. During a swell event the wave period will be in the region of 18-23 seconds or even longer. These long-period waves can push large quantities of water over the beach. The last major swell event was in 1979. Long period waves can occur most winters from Atlantic storms, the last event being the 28th October 2020, but unless the wind pattern is right the wave height is not sufficient to over-top the beach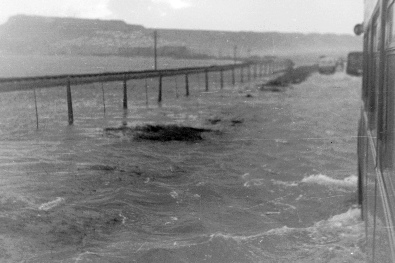 Flooding of the road in the 1962 storm. Pictures: E.A.Box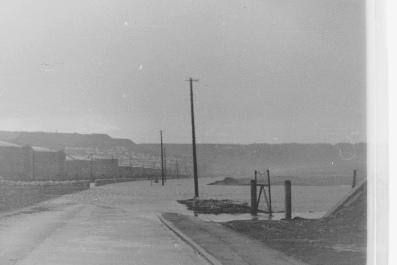 Chesil Beach and the Fleet Lagoon
18 miles and 180 billion pebbles